Atlassian Team 22 started with the cry of "People!", and with it the first Partner Connect talk of this Team'22, exclusive sessions for partners prior to the official start of this highly anticipated face-to-face event.
This session discussed some of the new developments since the previous annual face-to-face event in 2019 when it was still called Atlassian Summit: changes in Atlassian's structure, the focus on solutions, new specialisations for partners, customer and revenue growth, and so on. Including a preview of the new features announced the following day.
The main talk of the event, led by Scott Faquar, Co-Owner and Co-CEO of Atlassian, served to announce the main new features that would later be detailed in the specific talks on Work Management, ITSM and Agile & DevOps.
Atlas and Compass
The first announcement was the launch of the new Atlassian Atlas product, a new service that is expected to act as a directory or central repository of the work done by the different teams in the organisation.
It will also allow summaries of what everyone is doing to be sent, as well as accessing the profile of a particular user or team to see their work and goals. This new product can be of great help in follow-up meetings, even reducing the duration or repetition of meetings.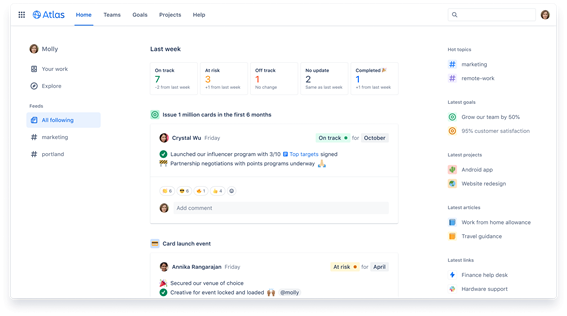 The second announcement was Compass, a developer portal that provides a unified, real-time view of all the results of the distributed software development process. It has three main aspects: a catalogue of software components and their relationships, the tools used and integrations and best practices for development and operations. It is a perfect complement to Jira Software, where the effort of generating these components is managed and planned.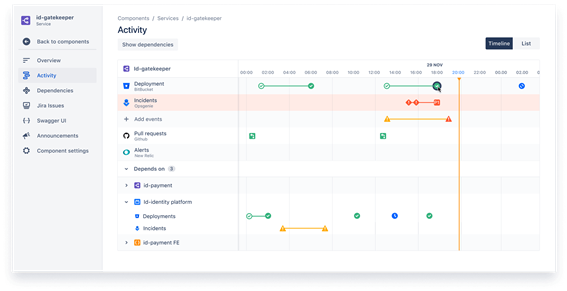 The progress of Jira Product Discovery, the third product of the Point A initiative announced at Team'21 and currently in beta mode, was also discussed. This tool is aimed at Product Managers, designed for the initial phases of the conception of new products or new ideas for existing products.
Atlassian Data Lake and Atlassian Analytics
In addition to the above new features, Atlassian Data Lake and Atlassian Analytics were presented, which complement the Atlassian platform by enhancing the analytics and data visualisation capabilities of the products.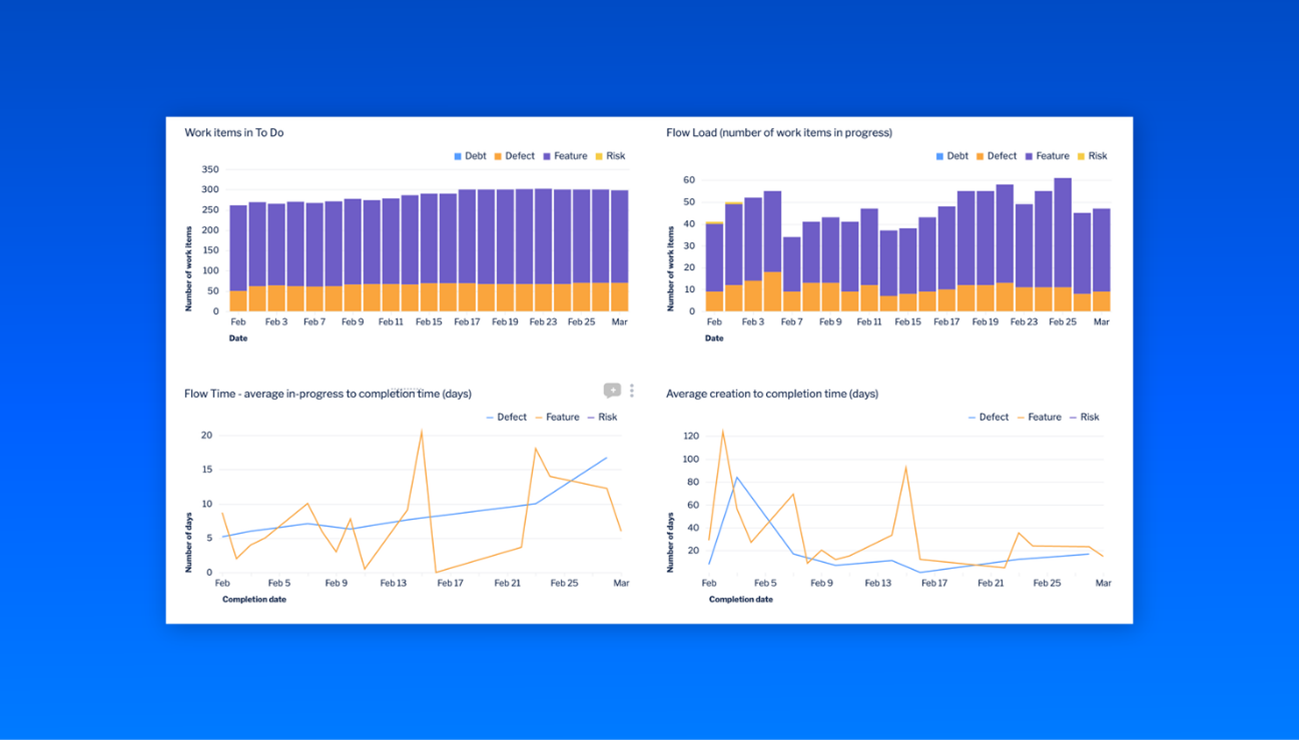 Atlassian Data Lake allows you to persist cross-product and cross-instance data to facilitate further analysis and discovery of new information. It goes beyond the dashboards and reports that are natively included in the products and avoids having to use external BI tools or custom development. Initially Atlassian Data Lake will include data from Jira Software and Jira Service Management but in the future data from all products will be integrated.
Atlassian Analytics allows Atlassian Data Lake data to be exploited in a simple and flexible way, making it easy for users to access through code-free configuration or via SQL. Atlassian Analytics has been developed based on Chart.io technology, acquired in early 2021.
Atlassian Analytics and Atlassian Data Lake are currently only available in Early Access mode to customers who apply and are selected.
Work Management
The Work Management talks focused on the topic of "work differently, together" and how the tools and best practices provided by Atlassian, and in particular Jira Work Management, enable teams of all types to manage their work collaboratively and communicate with each other.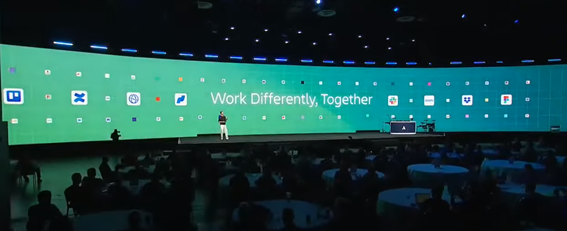 Trello Enterprise was also presented and it was a good oportunity to learn how this tool can also help in that work management for business teams.
In addition, some Confluence Cloud enhancements were announced such as converting table data into interactive and customisable charts, putting pages in presentation mode, a new automation module and native integration with Teams that allows you to create and modify pages directly without leaving the application.
ITSM
The ITSM area is one of the three main pillars of Atlassian and was one of the main protagonists of this Team'22. We could see quite a few talks where organizations showed the modernization of their IT service management processes and how Atlassian tools are a perfect complement and a great catalyst to carry out the transformation. Currently more than 40,000 customers are already using Jira Service Management for this purpose.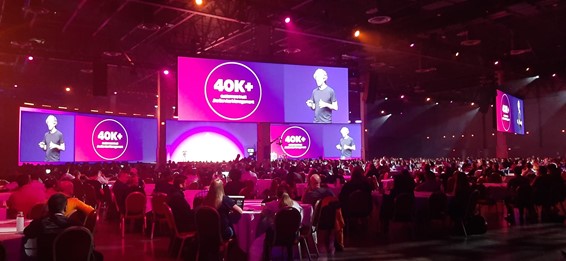 Some of the announced enhancements to Jira Service Management included: ability to plan for pending changes with a new calendar view, Atlassian Analytics integration, improved request form creation via templates, integrated knowledge base and improved conversational capabilities with the adoption of the newly acquired Percept.ai technology.
Many changes, same spirit
Team'22 ended with Bash, the classic party at all of Atlassian's annual events, just as spectacular as every year.
In addition to the new features, it was an event in which the physical contact with people was once again recovered, demonstrating the good atmosphere and the good health of the partner ecosystem, an increasingly close relations not only of the partners with Atlassian but also of the partners with each other. Atlassian has grown a lot, from 800 to more than 7,000 employees in a few years, but the hope, values and culture have not been lost.
See you at Team'23!