Team ´23 Las Vegas
Ever since atSistemas was founded back in 1994, we have been working to position ourselves as a company in IT services consultancy and software development in Spain and globally.
Thanks to the effort, company performance and expertise in Atlassian services over the past few years, we are looking forward to Team ´23 in Las Vegas, Atlassian's premier event, on 18 – 20 April 2023. Customers, partners and experts will share knowledge, connect and learn about the latest Atlassian products and services.
This is an opportunity to understand trends in the Atlassian ecosystem, best practices and learn first-hand about new and updated products and services. We will have presentations from Atlassian professionals and experts, product demonstrations, workshops and networking.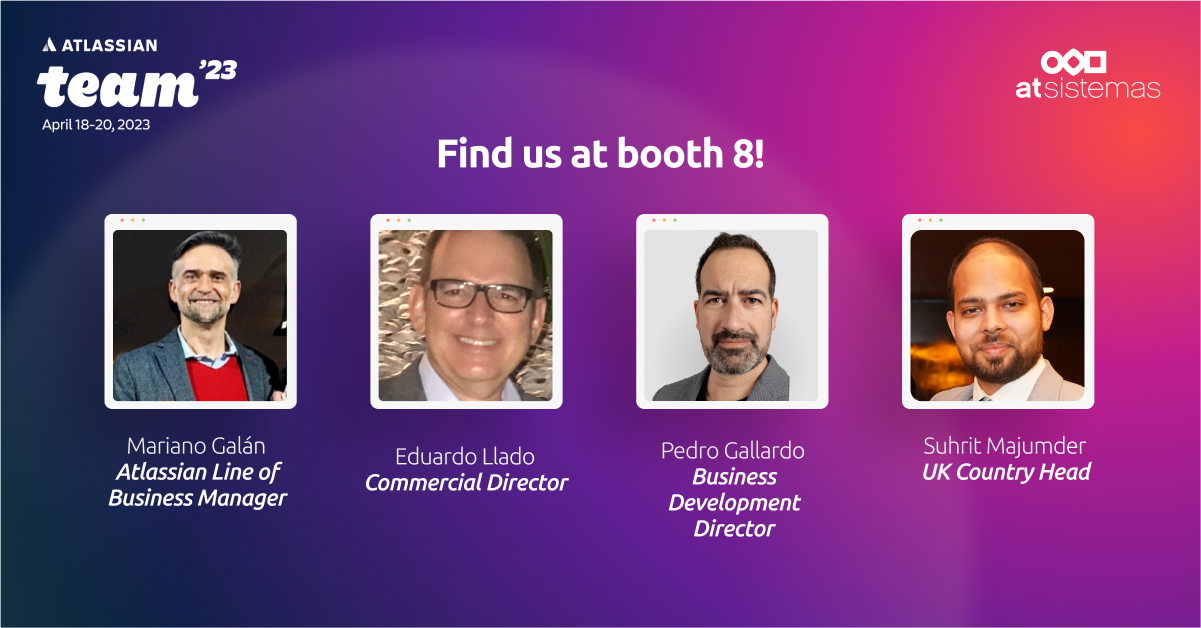 atSistemas at Team ´23
Our team in Team 2023 is composed by:
Our stand is #8. We will be happy to assist you.
atSistemas and Atlassian serving customer needs
We are a great team of Atlassian professionals specialised in defining and implementing processes through methodologies and tools to achieve collaboration and communication between teams across the organisation.
We are endorsed:
+ 11 years of Atlassian experience.
+ 300 active customers.
+ 3000 Atlassian services executed.
+ 200 professionals specialised in Atlassian.
Partner Platinum Solution Enterprise, the highest level of partnership.
Recognised with Atlassian Cloud Specialized.
Numerous success stories and customer testimonials as proof of the successful implementation of services and solutions.
Our solutions and applications
We have Atlassian solutions that fit the particular needs of each customer, whether large or small, without disruption to your business.
Easy DevOps
Smart Work Management
Atlassian Support Plans
Our Atlassian MarketPlace applications:
Workflow Magic Box: Take your workflows to the next level with this new set of conditions, validators and post functions.
Dazzle: Impressive macros for Confluence
ReceiveMe!: Powerful and customisable email manager for Jira
NotifyMe!: Send personalised messages to any email address from Jira issues
TemplateMe!: Easily customise Jira notification email templates
Discover all of them HERE
What's happening in Vegas, we tell you about it! Stay tuned to our channels.